Some of the most common ways for a patient to lose a tooth include accident, injury, or gum disease. When that happens, self-esteem can become damaged. What's more, a missing tooth can also limit your smile's functionality and cause issues with your oral health down the road. You don't have to live with a missing tooth, though. Schramm Dentistry in Charlotte has a special restorative and cosmetic service that can help. With a crown and bridge—or a fixed bridge, as it's sometimes called—Dr. Schramm can fill the gap in your smile to help you reclaim your confidence and preserve your oral health.
Improved Appearance and Functionality
A crown and bridge is made up of a prosthetic tooth plus one dental crown on either side. The crowns are attached to existing healthy teeth while the prosthetic tooth in the middle fills the gap in your smile. Sometimes bridges that uses dental implants may be used, or even a partial denture. However, for many patients who are missing just one tooth, a traditional crown and bridge may be enough.
Personalized Care to Repair Your Smile
The process of restoring your smile will begin with a consultation with Dr. Schramm at his Charlotte dental office. With an exam, we can determine what your needs are, then discuss your options and explain your treatment. There will also be some prep work involved to get your teeth ready for your restoration. Replacing a tooth with a crown and bridge typically takes at least two to three appointments. When Dr. Schramm finally has your crown and bridge in place, you can look forward to having a complete smile that looks great and help you enjoy better functionality and oral health.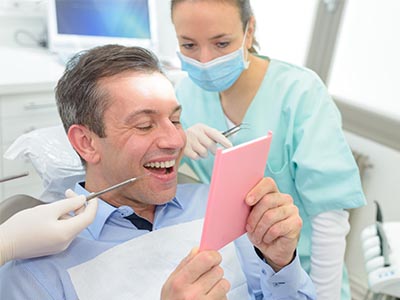 Our Location
12311 Copper Way
Suite 101

Charlotte
,
NC
28277
(704) 215-4516
Fax: (704) 542-7180
Follow Us